Have I missed anything? Let me know!
Low Dose Naltrexone Clinical Trials
Medical professionals and patients should rest assured there is now significant research into LDN occurring around the globe.



Pilot trial of low dose naltrexone and quality of life in MS
Bruce A.C. Cree *, Elena Kornyeyeva, Douglas S. Goodin
University of California, San Francisco. Patient funded trial completed 2008.
Published in Annals of Neurology 2010.
Abstract Full Text Pre-Publication
Presented at AAN 2008, and MS World Congress 2008.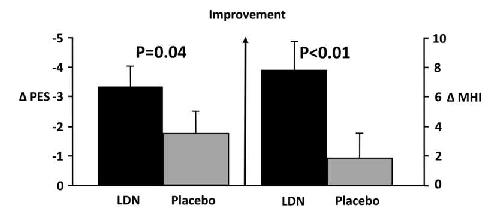 Left: PES=pain effects scale Right: MHI=mental health inventory

-----------------------------


Low-dose Naltrexone as a treatment for multiple sclerosis.
Dr Tom Gihooly on the state of LDN research.
British Journal of Neuroscience Nursing, Nov 2009 v5 n11



Four LDN Studies Presented at the 2008 MS World Congress Meeting


9/22/08 Elaine Moore reports on the important MS/LDN studies at Penn State
and University of California.

Low Dose Naltrexone: Hope for PPMS


9/18/08 Maija Haavisto reports on the Italian human trial 6 month report.


A pilot trial of low-dose naltrexone in primary progressive multiple sclerosis.
First LDN/MS trial data to be published. J. Mult. Scler. Sept 08

Pilot multi-center study of low dose naltrexone in primary progressive
multiple sclerosis University of Milan.


Results presented at the American Academy of Neurology; ECTRIMS.

Scottish doctor is raising money to fund LDN drug trial for MS


At the 2008 LDN conference, Dr. Gihooly reported this trial is nearing launch.

Jan 2008: National MS Society clinical Update on LDN


Links to the research mentioned are available above.



Evers Multiple Sclerosis Clinic


The first trial of LDN for Multiple Sclerosis. 2004, Germany.

Jan 2008: Low Dose Naltrexone for the Treatment of Fibromyalgia


Stanford Medical Center. Recruiting patients that live near Bay Area.



The Mali HIV+ AIDS LDN Initiative - Dr. Jaquelyn McCandless



Penn State


Successful Trial of Low Dose Naltrexone for Crohn's Disease


2008 Phase II (trial website) and Pediatric Crohn's (trial website)

Met-enkephalin therapy for autoimmune diseases: Selective immunomodulation and extention of steroid therapy


This human study was done in Croatia, 1997, and found positive effects across multiple autoimmune conditions, such as "significant reduction in the number and severity of relapses". Met-enkephalin is the beta-endorphin released by LDN, which may play a role in returning the immune system to homeostasis.

Publications & articles related to LDN Therapy

Opioid growth factor suppresses expression of experimental
autoimmune encephalomyelitis.
Zagon IS, Rahn KA, Bonneau RH, Turel AP, McLaughlin PJ.
Brain Res. 2010 Jan 15;1310:154-61.
Funded by the National MS Society.

Dr Zagon at Penn State has a long research history with "opiod growth factor"
(invoked via LDN), and human trials for Crohn's Disease and
Pancreatic Cancer.



Glutamate Excess in Multiple Sclerosis Variants: Why LDN Offers Benefits

11/3/08 Elaine Moore reports on new research from Mayo Clinic that
supports Dr. Agrawal's 2005 LDN/MS hypothesis (see below).

Low dose naltrexone therapy in multiple sclerosis


Medical Hypotheses, 2005;64(4):721-4, Y.P. Agrawal
Abstract Full-PDF



The Use of LDN for MS, Crohn's, and Other Autoimmune Diseases


by Elaine Moore, who has published extensively on autoimmunity.



A Case of Remission from Crohn's Disease with LDN.
Reported by Jeffrey Dach, MD

Possible importance of antibiotics and naltrexone in
neurodegenerative disease (email for copy of article)


European Journal of Neurology 2005, 12: 1, Y.P. Agrawal

Jan 2005: Interview with LDN researcher Dr. Agrawal (PDF)


Interviewed by Robert Lester, published by the Boston Cure Project



Beta endorphin concentrations in PBMC of patients with different clinical
phenotypes of multiple sclerosis.


Dr Gironi's research found lowered endorphins in MS patients. LDN raises
endorphins, our own endogenous opiates, which may have a modulating
effect on the immune system (see below).



How LDN helps fight Lyme Ken Singleton, M.D.

Predictors of Interferon Non-Response


If you are trying to decide whether to continue Interferons or switch to LDN


Imiquimod, An Immune Response Modifier, Is Dependent On
The OGF-OGFr Signaling Pathway - MedicalNewsToday.com 7/27/08


Exp Biol Med, Aug 2008 Abstract

The role of glutamate transporters in neurodegenerative diseases and
potential opportunities for intervention.


Neurochem Int. 2007 Apr 19, Sheldon AL, Robinson MB.
A team including JS Hong at the National Institutes of Health has been researching the neuroprotective effects other compounds similar to Naltrexone:

Role of Microglia in Inflammation-Mediated Neurodegenerative Diseases: Mechanisms and Strategies for Therapeutic Intervention



Role of nitric oxide in inflammation-mediated neurodegeneration



Inhibition by naloxone stereoisomers of beta-amyloid peptide (1-42)-induced superoxide production in microglia and degeneration of cortical and mesencephalic neurons



Dextromethorphan Protects Dopaminergic Neurons against Inflammation-Mediated Degeneration through Inhibition of Microglial Activation
Is MS an Autoimmune Disease?
Many of the FDA approved treatments for MS are immune suppressants, aimed at down-regulating what is thought to be an overactive immune system that is attacking the myelin sheath. It is speculated that LDN works by placing the immune system back into normal mode, or homeostasis. While this may be at odds with the autoimmune theory, recent research is calling into question the traditional definition of MS.

Popular Hypothesis Concerning Emergence Of Multiple Sclerosis Contested ScienceDaily, Dec 2008.
Journal reference: Haak et al. IL-17A and IL-17F do not contribute vitally to autoimmune neuro-inflammation in mice. Journal of Clinical Investigation, 2008


Neuroimmunology References:



Experimental Evidence for Immunomodulatory Effects of Opioids


Discussion on the developing science of neuroimmunology.